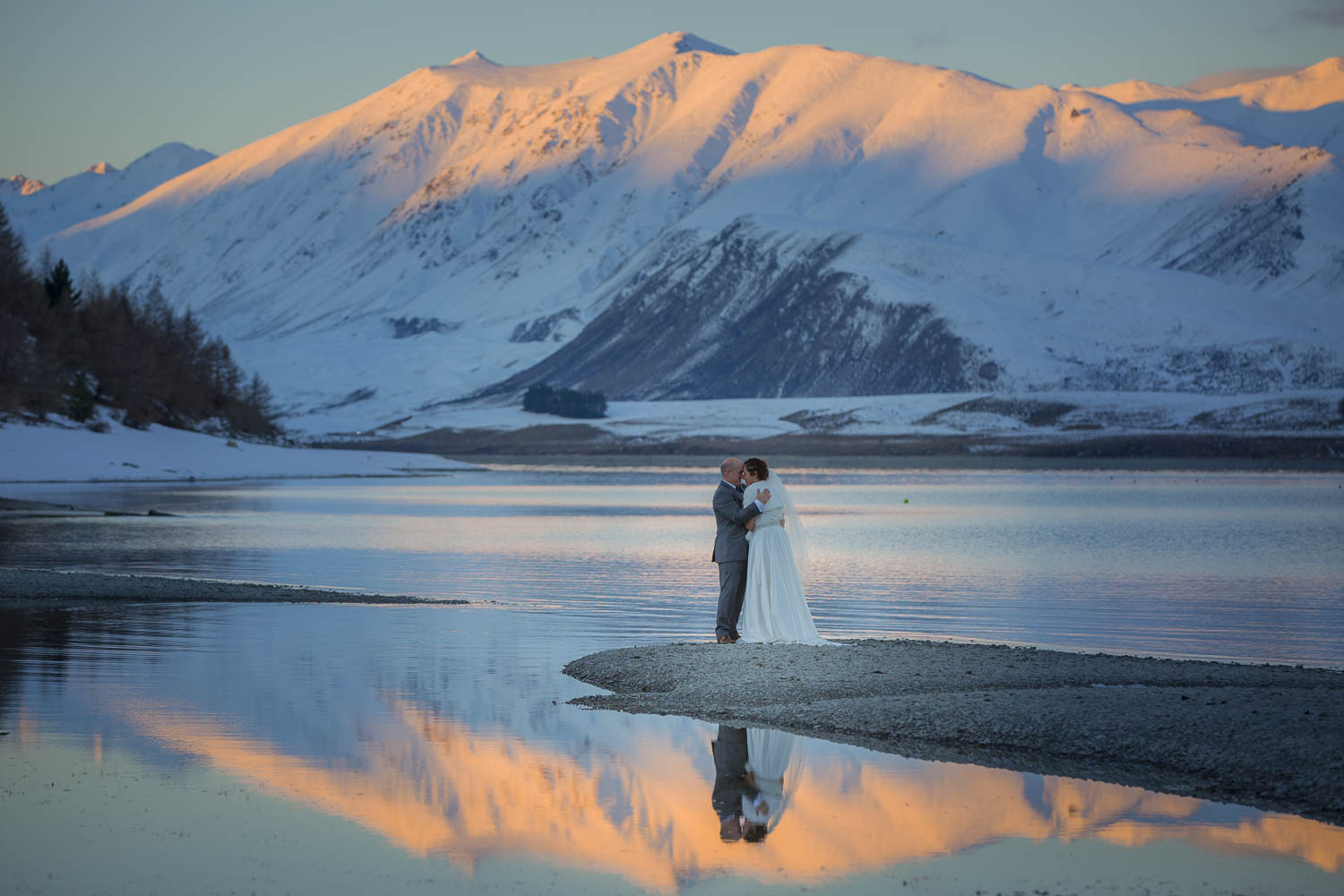 Sean & Kirsty – Tekapo Wedding (Silver Package)
Tekapo Photography
The McKenzie Country was covered in a blanket of snow the day Sean & Kirsty made their promises in Tekapo. There wasn't a cloud in the sky. It was the perfect day for a wedding. The infamous Church of the Good Shepard closed its doors at 2pm, and 30 minutes later the church bell is ringing…well, actually it isn't – it was frozen. No matter, Kirsty and Sean were married!
The Church of the Good Shepard is stunning, small, but just beautiful. It's so small in fact, there isn't much room to move around. I often find myself leaning and reaching to get that shot. During this ceremony I hadn't noticed the candle burning on the alter, I smelt the smoke first…then the pain. I looked down and my shirt was on fire. Luckily, not many noticed the hole in my shirt, and the most important thing – I got the shot.
The Beauty of Tekapo
Finding a location for photography around Tekapo isn't difficult – it really depends on how much time we have and also the conditions of the day. Sean and Kirsty both wanted photos showcasing the beauty of Tekapo, so rather then going to the lake shore (with the hive of buzzing tourists) we took a drive off the beaten track. Within 10 minutes we are in the perfect spot. With unspoilt mountain and lake views and not a person in sight, it was the perfect place for a little photography and a glass of champagne. We timed it so the last of our photos would be around sunset. I'd scouted a location that I thought would work well, with some still water providing those lovely lake reflections.
Boy it was cold, but what an experience being in such an incredible place with such incredible light. And of course to be there with such an awesome couple…so cool. Congratulations to the lucky couple Sean and Kirsty!